Visual cues specific to you, and your team make collaboration easier, and more enriching.  You, and your fellow users should upload a portrait or avatar image to your profiles, and customize your Groups whenever possible to personalize the experience of using Matrix Insights.
Profile Image
We recommend adding a portrait to your Matrix Insights profile.  Profile Customization is part of the top-right button in the navigation bar. Click on your existing avatar, and  choose:  Edit Profile.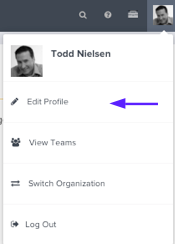 In the Profile screen, from the left-navigation frame, click on Personalization, then
Click on the 'Camera' icon
Choose to Upload File, or use your Webcam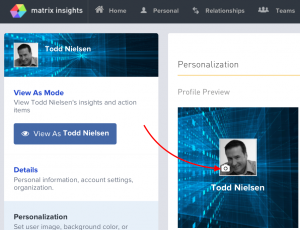 If you're uploading an image, it should be in PNG or JPG format.  Your avatar image should be 100 x 100 pixels, or in a rectangular aspect ratio, but not larger than 4MB. To crop and recenter an image with different dimensions, grab one of the 6 square handles on the borders of the crop preview, as shown here.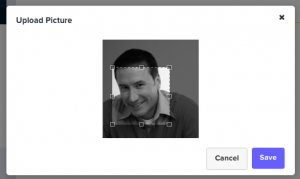 You can also move the crop preview window to recenter the image to your preference.  When your image is optimized, click Save.
Organization, and Group Images
Each Organization, and Group you create and manage in Matrix Insights can also have an associated image, like a company, institution, team, or departmental logo.
First locate the Organization, or Group from the Coaching Dashboard perhaps by searching in the Organization list view, or the Group list view.
Click Settings in the left-navigation panel, then
Click Change Image, and
Choose a File to Upload, or use your camera
Organization or Group images you upload should be 300 x 100 pixels, or in a rectangular shape with a 3:1 aspect ratio. To crop an image with different dimensions, grab the square handles on the corners, and recenter the preview pane, as shown above.