Matrix Insights is invitation only software. In order to start building a profile, you will first need to be invited by someone you work, learn or train with.
Your sponsor or host, the person who invites you to Matrix Insights, will issue an e-vite, which arrives in your email. That invitation may look something like this in your email: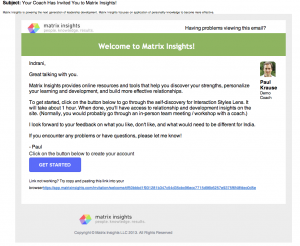 You'll note that the e-vite will be sent by a Coach, Mentor, Instructor, or Administrator that you or your team are working with. In your email inbox, the sender may show as:  "noreply@matrixinsights.com"
That invitation you receive is personalized, and contains a unique token that only you can use.  Don't share the e-vite, or forward it to others, and don't attempt to redeem an e-vite sent to a colleague.
If you cannot locate your e-vite, and your host or sponsor assured you that it was sent, there are typically one or two simple steps to locate it.  On occasion e-vites from Matrix Insights can be misplaced, or routed into folders that you or your employer may have placed in your inbox, such as Social, Promotions, or rarely, Junk or Spam.
Check all email folders by searching All Mail for "matrixinsights.com"
If you don't have a Global, or All Mail view, search your Bulk, Promotions, or other filters for "matrixinsights.com"
Ask your host, or sponsor to send a refreshed e-vite, and search your email again
Email us directly at support@matrixinsights.com for a new e-vite
If you don't have a learning and development department, or a learning specialist in your Human Resources department who can invite you to Matrix Insights, then we encourage you to get started on your own with our freemium (start today) leaders product:  www.teamdashboard.com.  Tell your HR Department that you did, and tell them what you learned about relationships, leadership, and teamwork.