Team Insights help you better understand team dynamics, and how you collaborate as a group. Becoming more aware of your team mates preferences, and more agile to their needs improves communication, reduces stress, and improves outcomes. These benefits accrue to you as individuals, and your team as a whole.
Start by logging in, then heading over to Team Insights from the home page.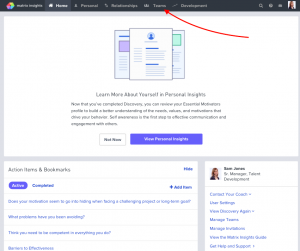 To get started in Team Insights choose a Team.   (1) If you have multiple teams, first choose which Team to display.  Then (2) click on View for any lens you share with your team.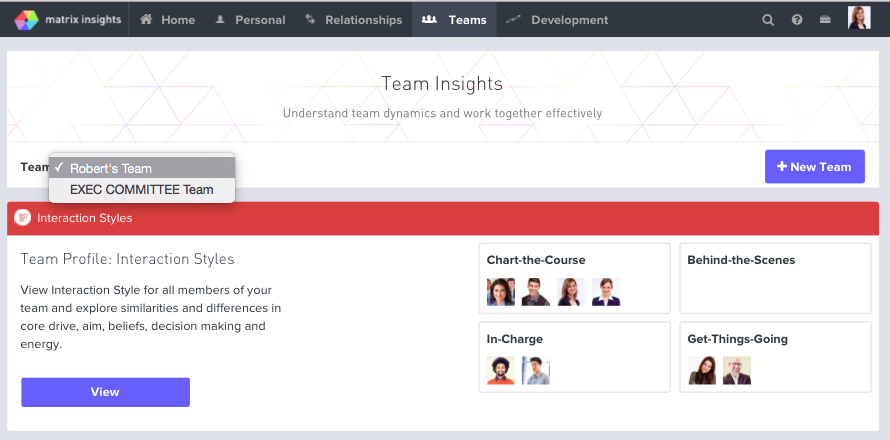 Review the left navigation pane, an index of shortcuts to popular topics we all have to learn to address in our teams.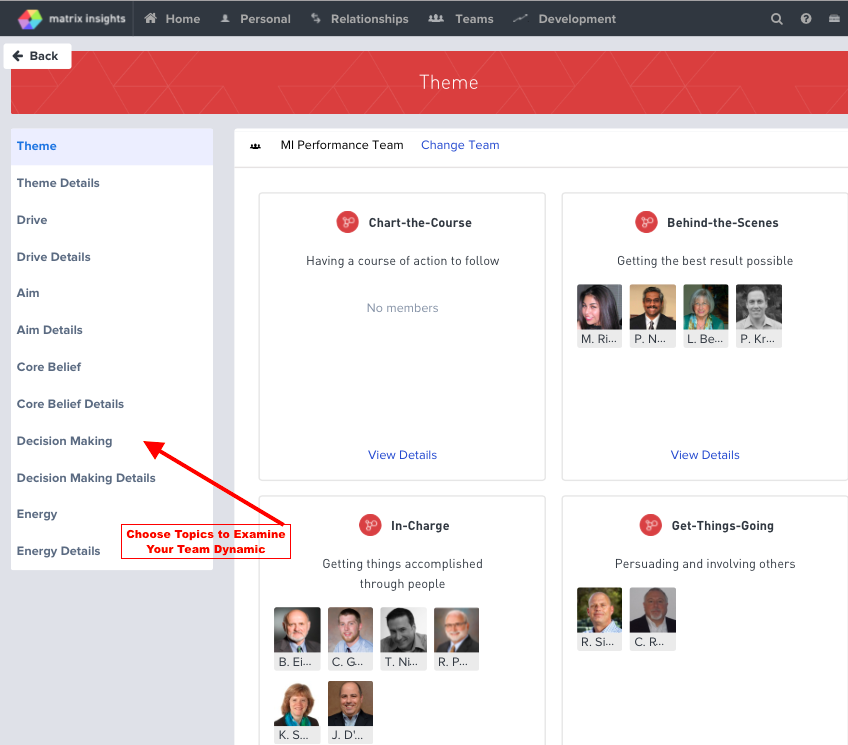 Roll over a team mate to see their full name.  Click on any team mate to open Relationship Insights.
Discussion Topics
Looking at your Team Insights, consider these questions, and raise them with your team mates, or even as a group for discussion.
Does this team have representation from all Interaction Styles?
If not, what Styles are under represented, or over represented, and what does that mean to the Team?
How could we flex to cover that gap? Do we do that already? Do we want to be attentive to that?
Click on "Decision Making"
Are your team meetings reflective of the Team goals/mission/charter? Why?
Are your team meetings productive as relates to goals/accomplishments? Why?
Click on "Energy"
Who on your team is at risk of going unheard in group discussions? Does that happen?
Who on your team is likely to be more productive in meetings that have focus (such as a well planned agenda) ?
Who on your team is likely to enjoy discussion, and consensus building?
Who on your team is naturally good at consultative (synthetic) decision making?
Click on "Drive" 
Who on your team is naturally driven to anticipate, and strong at planning?
Click on Core Belief:
Who on your team is decisive, determined, and inclined toward achievement?
Who on your team is good at reconciling diverse inputs?
Watch a Tutorial on Team Insights
Read about how to find Relationship Insights
Watch a Tutorial on  Relationship Insights