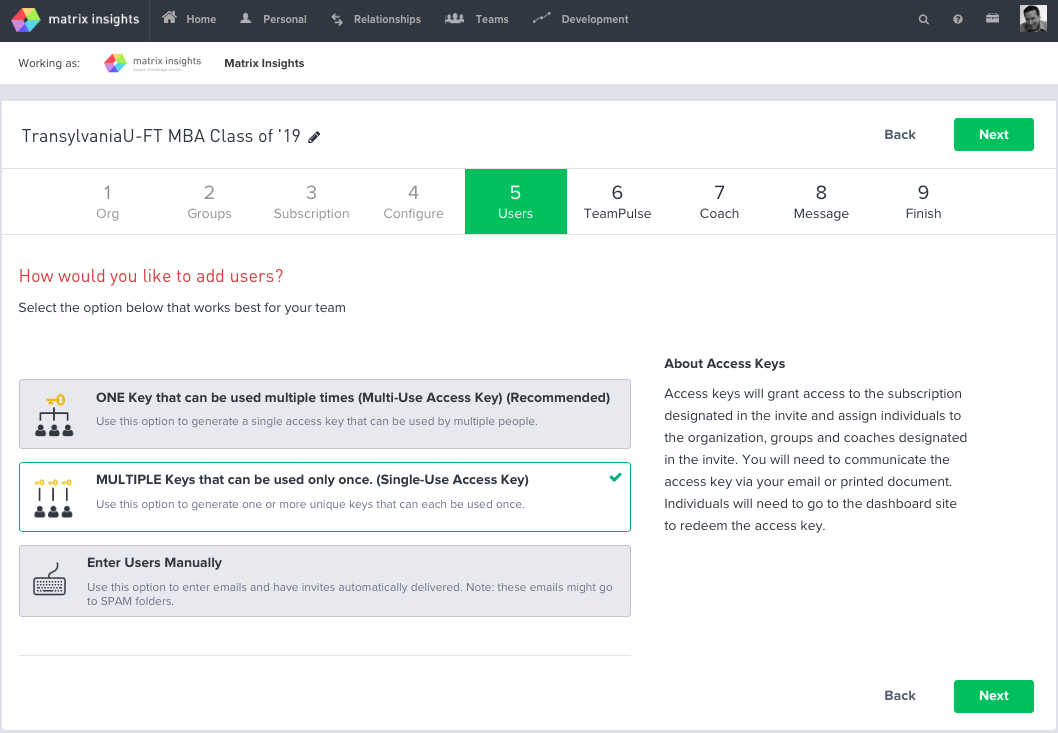 New "Access Keys" Options, from the Invitation Wizard.
What: You can now use Access Keys as a way to onboard new groups of users (in addition to the legacy option of Manually entering email addresses). In many cases this will offer administrators a faster, easier way to grant access, particularly to larger groups. It also may help reduce invites in the "junk" folder.
When users redeem our "smart" access key, it will grant access to the correct lens and assign them the designated organization, teams, groups, and coaches.
When: Available now
Who: All administrators
How:  Three Options for Inviting Users
You now have three options for inviting and enrolling users:
1. Multi-Use Access Key (Recommended). In this option, you create an access key and distribute it to the target audience via your own email or other communication method. You provide the context and message it to users as you wish. The smart access key designates the organization, team, lens, admin group, and coach assignments you select in the invite process.
2. Single Use Keys. If you need to distribute unique keys, for instance to sell separately on a printed card or inside a textbook, then this is your option. You will generate multiple unique keys, each of which can be used only once. You will be able to download the keys so that you can mail merge.
3. Enter email addresses. In this option, you enter email addresses and users receive an invite directly from our system. This is a simple and effective approach especially for individuals and small groups. However, it does require you to enter emails into the system and your recipients may ignore the message if they are unfamiliar with the initiative to which the invitation relates.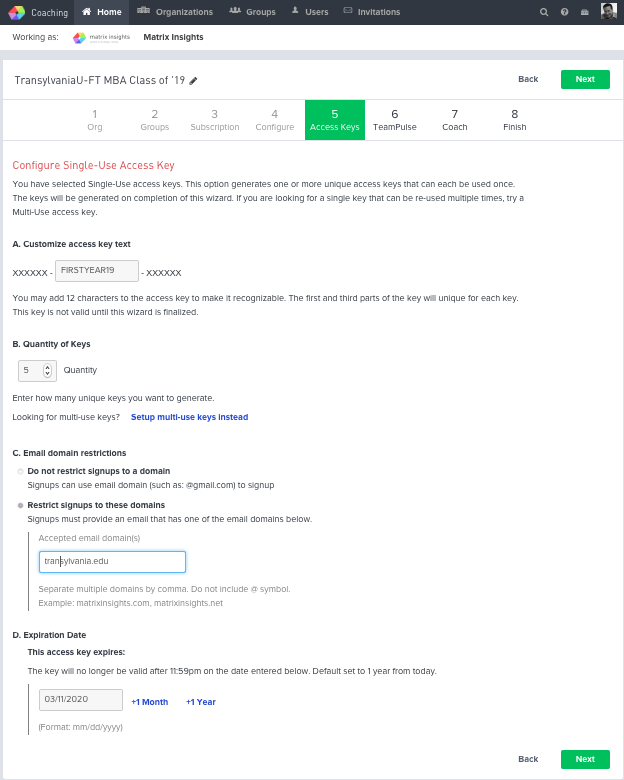 Configuration Options Screen
Options:
As you can see in the screen shot above, there are a few configurable options to consider:
Customize the name of the access key
Set the Quantity of access keys
Limit the redeeming learners to those in a specific domain (if your cohort or group includes only learners with an email address at "Transylvania.edu" or "SpaceStation.gov").
And finally limit the time window for availability
Why Access Keys:
After sending out new learner invitations to the Leadership Dashboard, have you ever heard:
"I can't find the e-vite you sent."
"I never saw the email, did it go to spam?"
"Fred in Accounting deleted the email, can you login, and send a system Reminder to him?"
Problem solved. Now the Invitation wizard includes these new options to invite users by sharing Access Keys, to start building their own profile. You can email the keys links, or post it to a group discussion, or include it in a course syllabus, or event agenda/invitation.
Frequently Asked Questions
Q: Can I use this at my school?
A: This was a frequent request from our friends in the academic world, so yes. If the class, or a cohort that you're managing is going to be subscribed, this is a far simpler, and more rapid way to onboard the whole group. In the classroom, and on campus: this enables a professor, instructor, TA or administrator to send one common link to the entire class.
Q: How will I be billed?
A: Your institutions subscription rates all still apply, and monthly invoicing will reflect all new learners you invite.
Q: With the new access key onboarding, is there a preference on which email account our students use?
A: If you restrict the domain name, then only students with email addresses including that domain will be able to redeem the keys. Otherwise, if you do not so restrict, there is no preference on which email (domain) your students use, only that they use the same email account to create their account, and redeem the link (key), and then use the same email each time they subsequently login.
Q: Can I have cards with access keys stocked in our campus bookstore, or company store?
A: Yes. Contact your Matrix Insights representative for details.
If you have other questions not addressed above, about getting started with multi-use keys, please email us at: support@matrixinsights.com.