The Coaching Dashboard is restricted to Administrators, Coaches, Mentors and Learning Leaders who manage users, subscriptions, and teams in Matrix Insights.
If you have administrative privileges, and have attended a training to utilize the Administrative/Coaching Dashboard, you will find the entry portal on the top-navigation, namely the icon in the top-right corner of your web browser, shaped like a tool box.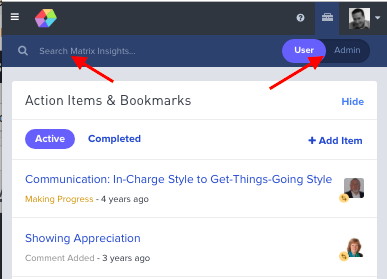 Toggle between the two views by clicking or touching the User or Admin button.  Search for Users, Teams, or Orgs by typing a search string next to the magnifying glass icon.
To learn more about the Coaching Dashboard, browse the Coaches Resource Center, attend an online training session, or contact your Matrix Insights representative.